I found delicious burger in Auckland.
The restaurant name is "Gourmet Burger and Brew Kitchen"
Gourmet Burger and Brew Kitchen
I recommend "Bacon Angus" which is burger price is $16.5 .
It has a lot of bacon,thick meat with delicious avocad source.
It is very big burger , so it is difficult to hold by hand.
I ate it with knife and fork.
I am interested in new burger "kangaroo"
One bottle beer is $5.
I think that it is good price.
The restaurant have many kind of beer.
Amstel ( Netherlands)
Asahi super dry (Japan)
Tokyo Dry(New Zealand)
Heineken( Netherlands)
Corona Extra(Mexico)
And so on.
I like drinking beer which I've never drunk.
This time , I drunk "Amstel" and "Tokyo Dry"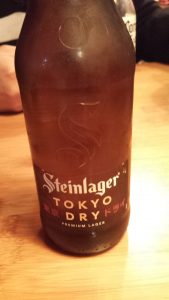 Tokyo Dry made by Steinlager using Japanese knowledge and NZ's ingredients.
Gourmet Burger and Brew Kitchen 's location is below map.
It takes about 10 minutes from Auckland Britomart station.